Short Rib Pupusa @ Lucha Cantina
At Lucha Cantina, they are absolutely in love with this SHORT RIB PUPUSA!
What is a pupusa you might ask? It's a griddle cake originally from El Salvador or Honduras.
They're making theirs with corn meal, chopped applewood smoked bacon & Chihuahua cheese. They're topping that with an Ancho BBQ Short Rib and a traditional pickled onion slaw. Served with a house salad!
🌮 Come eat with them today! 🌮
Order/make reservations through their Website: lucharockford.com
Or By phone: (815) 977-4319
Pickup/Dine in at 1641 N Alpine Rd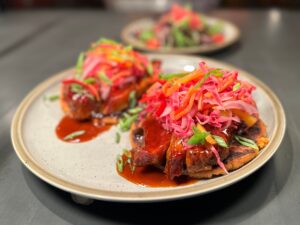 ⁠
Head over to lucharockford.com for all the menu options!⁠
Lucha Cantina full menu is still available for pick-up and delivery! Choose from our delicious dishes, Lucharita Kits, Natural Margaritas, and surprise specials!
Order via the Facebook Page, www.lucharockford.com, or phone at 815-977-4319. If ordering for pick-up, drive to the EAST side of the building to pick-up your food under the Lucha Cantina tent.