Butternut Squash at Lucha Cantina
Ready for your new favorite dish? Stuffed Butternut Squash is part of our latest Chef's menu (that's going away soon) and it won't disappoint. This squash is roasted and stuffed with quinoa, grape tomato, spinach, & kale then topped with goat cheese, pumpkin seeds and a balsamic reduction. Served with a house salad. Ummm, and try adding Sautéed Shrimp! It's heavenly.
Three ways to enjoy Lucha!
🔥 Come on in! No reservation necessary!
🔥 Order online! lucharockford.com or (815) 977-4319
🔥 Like to plan? Make a reservation at lucharockford.com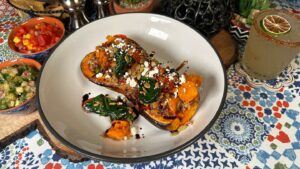 Order through their Website: lucharockford.com
Or By phone: (815) 977-4319
Pickup/Dine in at 1641 N Alpine Rd
⁠
Head over to lucharockford.com for all the menu options!⁠
Lucha Cantina full menu is still available for pick-up and delivery! Choose from our delicious dishes, Lucharita Kits, Natural Margaritas, and surprise specials!
Order via the Facebook Page, www.lucharockford.com, or phone at 815-977-4319. If ordering for pick-up, drive to the EAST side of the building to pick-up your food under the Lucha Cantina tent.